TIImageTool - von mir bisweilen auch kurz TIMT genannt - ist ein Java-basiertes Tool zum bequemen Arbeiten mit Disk-Images, insbesondere für MAME, aber auch für andere Emulationen. Disk-Images sind Dateien, welche eine komplette Diskette beinhalten, aber dabei auch die Struktur bewahren. Im einfachsten Fall ist ein Disk-Image der Inhalt aller Sektoren der Diskette in Folge von 0 bis 359 oder größer, entsprechend dem Format.
Ich entwickelte es ab 2011 als eine Alternative zum Programm imgtool, welches zu MAME gehört und die Erstellung von Disk-Images ermöglicht. Jedoch erwies sich die Arbeit mit diesem Kommandozeilentool als äußerst umständlich, und viele Aufgaben, die bei der Arbeit mit Disk-Images wiederholt auftauchen, kann imgtool nicht leisten.
TIMT ist komplett in Java geschrieben, was eine ziemlich nahe liegende Entscheidung war: Das Tool soll auf allen Plattformen, auf denen MAME läuft, zur Verfügung stehen, und das kann Java von Hause aus sehr gut leisten. Wir sprechen hier selbstverständlich nicht von Applets, sondern von einer eigenständigen Anwendung, und daher gelten hier dieselben Regeln wie für jedes andere Programm, das man sich auf den Rechner installiert.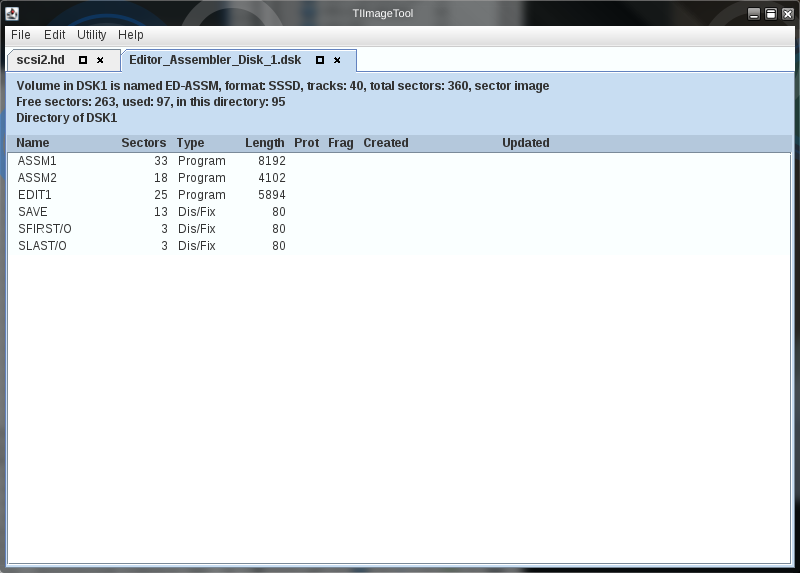 Download
TIImageTool can be downloaded from mizapf.eu or from WHTech. On mizapf.eu there is also the latest documentation that is also part of the in-program manual.
Note that you need a Java Runtime Environment version 7 or higher. The Java RE can be downloaded from https://www.java.com/download/ or from http://openjdk.java.net/.
Since July 2016, TIImageTool source code is available from Github: https://github.com/mizapf/tiimagetool
Version history
2.4: Sector editor; i18n, l10n for English, German; CF7 handling
2.3: HFE (Lotharek) image support; Search function
2.2: Sources available on Github; changed package structure; removed "Open device"
2.1: Open recent files; enhanced filesystem check; some fixes; output redirect
2.0: Drag-and-drop support; detachable views; paste BASIC into image
1.5: Image display (TI ARTIST, MyArt, YAPP); GPL disassembler; Tagged Object Code disassembler
1.4: Full CHD support (creating, extracting, importing, converting), Archiver support; Geneve boot disk creation
1.3: Imports binary content as a PRG file and reads TI99-PC SDF images with appended bad sector list
1.2: External device handling (working with Compact Flash or external drives). Known issue: In Windows you cannot write to the CF/external drive.
1.1: Supports CHD version 5 (MESS 0.145)
1.0: Initial version